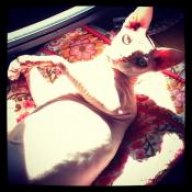 Senior Lairian
Senior Lairian
Joined

Jul 18, 2009
Messages

335
Points

78
here is the link to the shirt i made
http://www.zazzle.com/10_reasons_to_own_a_sphynx_tshirt-235914255345945177
and here is what it says:
10 reasons why i own a sphynx:
1. Cat hair on my face annoys me....I'd rather have the whole cat.
2. I like sharing my ice cream or whatever i'm eating with something that wipes with it's tongue.
3. I like the personality of dogs but hate that they are not independent.
4. I like when we are in public and someone asks me "Is it sick?" I'm half tempted to say "yeah it's allergic to humans"
5. There is nothing like finding your toothbrush in the litter box after they have decided they are done with it.
6. They walk on my counters (my mother hates it).
8. Once someone came to the door and left because they were scared of the cat.
9. When we are in the car, they insist on sitting on steering wheel.
10. Once you love a sphynx, no other cat will do.