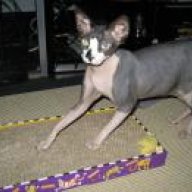 Joined

Jun 29, 2009
Messages

72
Points

0
Hello everyone!
I just found this wonderful forum last night!
I have 6 Sphynx
3 girls and 3 boys) Mischa, Lillet, Boo!, Nanopuss, Jack, and Moofin. My boyfriend and I have been in love with the breed ever since I got my first girl, Mischa 3 years ago.
We decided our house of 3 Sphynx simply wasnt enough for us, and got 3 more from a lovely breeder in AK 2 weeks ago. 2 girls and one boy.
We now feel that our family is complete! They are truly the light of our lives, and have our entire hearts <3