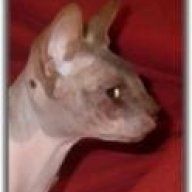 V.I.P Lairian
V.I.P Lairian
Joined

Mar 30, 2009
Messages

1,280
Points

163
3 of my kittens have got a lump on their necks where they received their final set of vaccinations/ Rabies.
Could it be an abscess? Or a reaction? They are playing normally, happy, eating normally etc, they just have a small hard lump between their shoulders..
Will get them into the vet's tomorrow and ask (politely) if she's been a little rough or if it's normal. I've never seen it before and 3 kittens out of 5 that were took in???

that's a large percentage.
Anyone else experience this with vaccinations? They had them almost a week ago, but I've been sick with girl-flu (a cold but I don't handle colds very well) so I haven't been playing with them as much as usual, my husband has been in charge of kitty duties while I sneeze, sniff and whine.