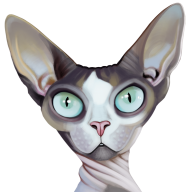 Administrator
Staff member
Joined

Jan 13, 2009
Messages

23,622
Points

643
If you are interested in advertising on Sphynxlair.com - please contact us via email
[email protected]
.
To have your own forum (as you can see at the bottom of the forum called the Sphynxlair Mall) you can have your own threads, posts, pictures and share with members the products or services you sell or offer. This area acts just like the other forums but its all your content. From there your transaction sales would be through your personal Paypal for payment or whatever other option you choose to take for payment. (buyers, please read the
Terms and Rules
on buying from sellers on Sphynxlair.com)
Here is what the Sphynxlair mall area looks like.
Pricing is as follows:
Sphynxlair mall
- $30.00 month
The payments will be made monthly to sphynxlair's Paypal account. You can cancel anytime. Please feel free to PM or email us with any questions
[email protected]
Last edited: