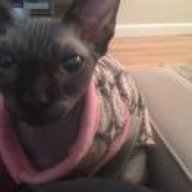 V.I.P Lairian
V.I.P Lairian
Joined

Jul 25, 2009
Messages

1,242
Points

158
ok I've brushed up a bit on litter box training but have some circumstantial questions and wanted to ask for some advice. I think I'm making it more difficult than it actually is...
I live in a condo and decided on putting the litterbox in the upstairs spare bedroom. I spend 90% of my time downstairs. I know I'm going to want to spend time with my kitten, Sophie, downstairs. I don't want to cause issues with her litter box training with her box being upstairs and spending most time downstairs.
I've read its not best to give a kitten "full reign" of the house first but my condo is not that big.
Should I confine her to just the upstairs for a while? Then just bring her downstairs to hang out for a while then back upstairs? the other thing is I want to keep her food/water downstairs- should I have it upstairs at first then move it when she goes upstairs on her own to use the litter box?
At 15 weeks old should this be a quicker process since she should already be used to using a litter box?
I guess the whole up/down stairs thing is throwing me off.... thanks everyone!