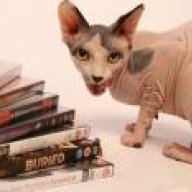 Joined

Apr 9, 2010
Messages

191
Points

66
There's nothing better than snuggling in bed with Loki when he's all lovely and clean (after he has forgiven me for bathing him in the first place) but the next day he is always just as dirty as before his baths! I don't know how he does it!
I'm pretty picky about how clean the house is (due to my spider phobia) so honestly I don't know where he finds the dirt! It seems to be happening when he sleeps, maybe when he's all curled up his skin oil has a chance to congeal or something?

Does this happen to anyone else? It seems pretty pointless to bath him when he gets dirty again the next day.
Any tips? I've tried using baby wipes but it just doesn't take the dirt off.
Kate x
Last edited by a moderator: