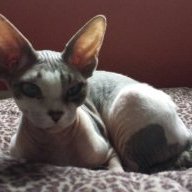 Joined

Apr 23, 2012
Messages

23,091
Points

653
many of us have nakids and other babies in our lives... all are family.. would love to see pics!
hugs n head smooches.
will start with my furbabies .. Macie Mae adopted bengal
adopted aussies Boo and his son Gunnar (red merle) , Raven who I take care of.. jumped off a delivery truck at a neighs in 2007 owner refused to come get her... she loooves the dogs. Macie is always playing with Gunnar and Boo.
have fish too will try to get some pics. recently added a tank of pea puffers! they are soo fun. like little puppy dogs. my nakids enjoy watching the fish.
Last edited: