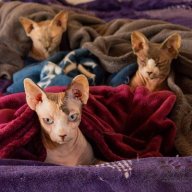 V.I.P Lairian
V.I.P Lairian
Joined

Aug 21, 2015
Messages

2,900
Points

588
As some know, I use non clumping wood pellets which "explode" when they get wet.
Interesting tidbit about this type of litter. All wood pellets are not equal.
I started with Tesco Wood Litter which was great, but there is no Tesco in Germany.
So then I used Kaufland litter, which she liked. Alas, there is no Kaufland nearby here.
But there is a drugstore (DM) which also sells wood pellet litter, so I got some of that.
It's much longer and harder and seems coated (it's shiny) and she absolutely hated it. So I hunted around, and the petshop in the next town over sells "Multifit" wood pellet litter. I haven't tried this one yet (I use the DM stuff under the Kaufland stuff to use it up), but from feeling it, it's smaller and not coated.
Here are the three litters in comparison.
Left is the DM litter. Middle is the Kaufland litter. Right is the "Multifit" litter.
The difference between the DM and the others is huge! (Quite literally.)
The average size of the litter are the "pins" above the piles.
So if your cat doesn't like wood pellet litter - maybe the pins are too big.
Figured I put this here to show you the differences.