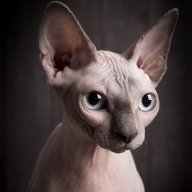 V.I.P Lairian
V.I.P Lairian
Joined

Dec 8, 2016
Messages

1,718
Points

218
So bought a thing of raw food today lol now to see if she will eat it. It's buddies natural pet food apparently lol just grabbed one from the freezer that was in trial form. Don't need $30+ to toss if she hates it.
Now to wait for it to defrost!
Will be used more so as a treat, 3-4 times a week. Won't be completely switching if she likes it: don't have the freezer space.
So hopefully with how much she is hating her new diet, she will be hungry enough to at least try it for dinner. It's turkey and tuna so I'm hoping Miss Picky will at least lick it lol
Will keep you guys updated!