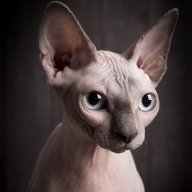 V.I.P Lairian
V.I.P Lairian
Joined

Dec 8, 2016
Messages

1,718
Points

218
So it is Astrid's first birthday today!
My mom sent her a little package for the occasion too.
Even made the family sign it lol
To celebrate Astrid will of course get extra kibble, nothing too fancy since she doesn't like anything. And I'm out of cheese puffs so she's out of luck there! Lol
I can't believe I've had her for only 6 months, it feels like I've had her forever!
Of course, a picture of her and her new toys. And her favourite rug. If I move it or straighten it out, it always ends up back like that and in the exact spot lol.