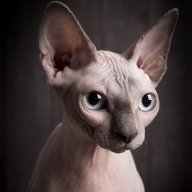 V.I.P Lairian
V.I.P Lairian
Joined

Dec 8, 2016
Messages

1,718
Points

218
"Screw youmon vaccine time for miss Astrid lol plus a check up. Jaws is finally at the ideal weight!!! (3.03kg) so just substaining her weight now. Bbbbuuuuttttttt her rash thing on her back gets flea treatment, not that there is a flea on her anywhere. Vet isn't 100% sure they even are bites but it's an easy fix if it is. If not more investigation is needed. Considering I havnt been bit I don't know about it. I get bit by everything lol I'm a magnet so for her to be covered and not me.... it's odd in my opinion.
"Let me OOOUUUTTTT. I wanna play out there!!!!"
"Screw you mom, you made me get poked AND have a thermometer shoved I me!!!"