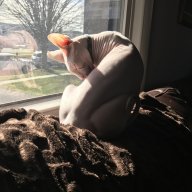 Joined

May 12, 2017
Messages

11
Points

4
Hello all!
First time poster, year long watcher here! I have been on sphynxlair since I got my first sphynx kitty, Ollivander (Olli for short) about a year ago. I haven't felt the need to post a question in the past because I have been able to find answers in previous threads BUT now I need a little advice on Olli's behavior.
He is a pink/white neutered male who will be a year old the end of this month. Recently he has become a little more aggressive with his play. He has become very bitey and it is mostly towards me. He will be sitting on my lap or in my bed purring and then in an instant he completely turns on me and bites whatever body part of mine is closest to him and latches on with his claws. I am the one who cares mostly for him in my household but I do live with my mom and younger brother. However, I am not sure he reacts this way towards them. Although I spend more time with him than the rest of my family ( as he sleeps with me almost every night) I notice he is becoming less cuddly and more bitey. Sometimes he really gets me a hurts me. When this initially stared to happen I tried the "yell ouch and no" technique but that only seems to make him more anxious. Sometimes I just get so annoyed with it that I have to lock him out of the room, but that breaks my heart becuase he claws at my door until I let him back in.
On a side note, my family has joked about him having a bit of a neurotic personality as he sometimes goes into weird trance like states, sprints around the house chasing our dog (who is larger but terrified of him), and gets very bug eyed and twitchy.
I don't know if this personality and behavior coincides with the biting and playful aggression but I would just like any and all information or viewpoints or opinions you can provide. Olli is my spoiled little baby and I want to make sure he is happy and mentally and physically healthy.
I am new at owning sphynxs and want to make sure I am going the very best I can!
Thank you all and I apologize for the long thread!