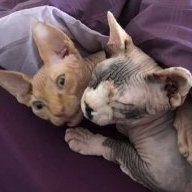 V.I.P Lairian
V.I.P Lairian
Joined

Sep 26, 2017
Messages

1,666
Points

238
hi there I was wondering do we have any uk breeders on our forum ?
Or any uk members who know of good breeders ?
I've search the sites here and most have to come from Poland , I missed out on one then found another , but they wanted a bank transfer wouldn't accept payment via Paypal though I did ask did they have it and they said yes but needed £50 bank transfer , I don't understand why they insisted on the bank transfer . But at the minuet here in the uk there are lots of adverts on tv about bank frauds etc so I declined
This was part of the txt message I really hope I did the right thing and didn't lose another baby . But bells began to ring at the insistence of bank transfer .
I did not feel totally comfy with the babies being brought all this way via aeroplane it must be traumatic , I know plenty of really good breeders do use this mode of sending babies to new mums
In fact my brother breeds British Bull dogs and as imported some of his dogs from over seas , but only sent via courier his puppy's
So please anyone know of a really reliable breeder in the uk , or even close enough to send via courier
Thanks in advance
Massive hugs
Anita & Cleo xxx