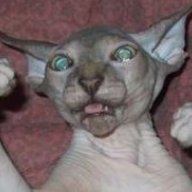 V.I.P Lairian
V.I.P Lairian
Joined

Feb 26, 2009
Messages

1,467
Points

188
I found Brooke's wanted photo of ButterBall freaking hilarious. Come to think of it, it would make an excellent shirt. hmmm sphynx lair shop? hahha Anyway, I casually suggested ButterBall picking up a prostitute and Lo and behold...............
And his wanted photo.
Now I have dabbled in photoshop before but I find it a little difficult and time consuming, so I know you spent alot of time on them so a super thanks.
Those are priceless. Any more funny ideas come to mind the Ball and I would love to see them.
I found this interesting little widget on Facebook. ButterBall is supposed to be a Romulan although it's a little hard to tell.