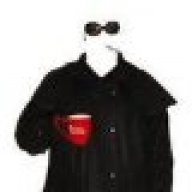 Senior Lairian
Senior Lairian
Joined

Dec 1, 2009
Messages

541
Points

133
Morning all!

When I took 5e to the vet for a herpes flair-up(he's doing fine), the vet noticed some brown stains on his teeth.

After checking that the enamel was stained (i.e. not tartar), he pulled out his stack of medical texts, 'cause he had heard of something like that, but couldn't remember off-hand. What the vet found is that (rarely) treatment with tetracycline( a heavy-duty antibiotic) during tooth formation could cause that.

I contacted the breeder, and she told me that brown stained kitten teeth is common in Sphynxs. Judy has been awesome, and I believe her, I just like to see confirmation. Additionally, if this is true it would probably be good info for new owners and I haven't located anything similar in the forums here.

So, my question is:
Has anyone else seen/heard that brown stains in the tooth enamel of Sphynxs is common and of little concern?