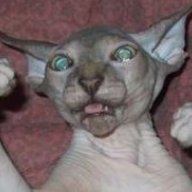 V.I.P Lairian
V.I.P Lairian
Joined

Feb 26, 2009
Messages

1,467
Points

188
I splurged for a new camera. I wanted to get one of those Flip Videos but the clowns at Fry's didn't carry such a camera so the hot chick that waited on me suggested this camera. I was worried at first but she quickly calmed my fears. And I must tell you, this camera is very good. It was $100 bucks. It is called a Vado from Iomega. So far, so good.
Anyway, to get on with the story, I took ButterBall to PetSmart. He was a very popular cat. everyone wanted to pet the ball. Good times.
I was reading Admin's post about ButterBall's Petsmart visit so I thought I'd post it. I may have already posted it but I just forgot so here it is again. Enjoy.
So here it is again.
Last edited by a moderator: