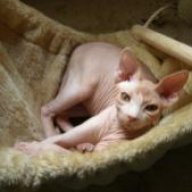 Joined

Jan 24, 2010
Messages

190
Points

66
taken with my birthday present from my hubby!
y'all know i've been wanting to add another hairless rat to my family. i've found a couple, but nothing that's really struck a cord and said "take me home!" well, on monday, my birthday, i had to go to petsmart to pick up some food for my existing crew. of course i had to look at the ratties..... and there was this precious, tiny little thing. she was running like crazy on her wheel, but when i stopped by her tank, she ran up to the front to say HI! i asked to hold her, and that was it.... she was mine. pet stores definitely aren't the idea place to get a rat, so she is in quarantine for the next three or four weeks to make sure she has nothing that can be passed to my current babies, like sda or sendai. after that, we will start intros and move her to the big girl cage.
so, enough rambling! let me introduce wisp!
like with sphynx cats, there is a varying degree of hairless-ness in rats. she's still very young, so there is a good chance she will loose her peach fuzz, and be left with just a little fuzz on her nose and feet. she's so tiny, and so sweet!!
and those who think rats are "dirty"- they spend approximately 30% of their waking time grooming.... which is what she is doing in all but the first picture!
oh, yes, and the present from my husband is a nikon d5000 that i still need to learn to use!