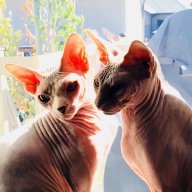 Joined

Aug 21, 2016
Messages

197
Points

61
Hi.
I'm currently feeding raw at 7am first thing in the morning and 10pm just before we go to bed. In between, my boys get kibble as a snack two times (Noon and 5 pm - just 1/3 cup to share each time).
They are 15 months old. No longer kittens but not far into adulthood. My little loves.
I'm considering eliminating the kibble all together, but then I'd only be able to feed them twice a day (or three times but that would not be spread out equally nor consistent day to day). I am away from home for between 6 and 10 hours a day (usually 6-7 hours) but those hours are inconsistent anywhere between 9 am and 9 pm, 7 days/week.
Is twice a day enough?
Thoughts?
Thanks!