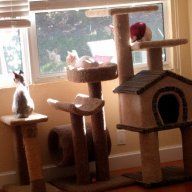 Gold Lairian
Notable Member
Joined

Apr 7, 2014
Messages

4,075
Points

568
In the short time I've been on this web site I've come to appreciate how much everyone cares about their cats and helping the rest of us. I don't think you guys are getting rid of me now haha!
I wanted to post a note about a group I volunteer with in case it might be helpful for anyone here or for a friend or acquaintance. The group is called Citizens for Pets in Condos and it's a non-profit group that does not sell anything.
How I got to know them is I live in a building that does not allow pets - not cats, dogs, rabbits, gerbils, birds....I think fish are ok. There is a federal law as well as a similar law in many states that allows for pets in certain cases despite the condo rules, one being assistance animals and the other being emotional support animals. An example of an assistance animal is a seeing eye dog; most people are ok with these. The other kind of animal allowed is an emotional support animal, and in this case condo boards are often unwilling to believe that the animal provides anything to the owner. They usually jump to the conclusion that the person just wants a pet; however, remember that the law requires the person to have obtained a letter from a doctor.
To make a long story longer, although I had a letter from a doctor justifying my having 2 cats for emotional support, the condo board refused to approve it. I went online and found Citizens for Pets in Condos and they referred me to an animal rights lawyer. The lawyer was able to get the condo board to approve not one but both of my cats. Just to show how ridiculous this building's board is, there is a man in the building who is deaf and he has 2 dogs that are trained service dogs, and the condo board tried to make him get rid of one because in their words, "why does he need 2 dogs, one for each ear?" Naturally they tried the same thing with me, which they shouldn't be able to get away with, but without a lawyer how does a person even know what the law provides....
Long message but I am trying to do my little bit of "paying it back" by spreading the word because most people are probably like I was and afraid of getting fined exorbitant penalties. If this helps even one person to keep their pet(s) I would be happy. Here is the link to the group's web site:
http://www.petsincondos.org/
Thanks for reading and please feel free to spread the word.
PS - the home page is gathering signatures for a petition that you can sign if you want to but that wasn't my goal in posting this. What that is about is for example in my building, the deed when the condo was built says that it takes a 75% vote of owners to allow pets in the building. We have a lot of units owned by snowbirds who don't ever vote on anything, so we wouldn't even get 75% turnout. The petition would put a law in the Florida books to allow that specific deed restriction to be changed by a simple majority vote (51% of those who bother to vote). Anyway I'm pretty sure you must be a Florida voter in order for your signature to count so if you are out of state it's not really worth your time.
Last edited: