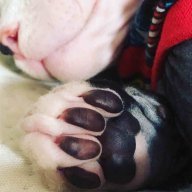 Joined

May 7, 2018
Messages

92
Points

29
We got to meet the kittens today! One of them will join our family. I thought meeting them would make it all clear but it didn't. I'm more confused now than before. They were all so lovely. Can you help me decide based on your experience? I want a kitty that wants to be around my kids and cuddle with me. My hairy kitty won't venture out around kids or children so a more outgoing cat would be a good compliment. We have three young kids, one Great Dane, one cavalier King Charles and a Himalayan. Obviously it's busy.
We met four boy Sphynx kittens and they were so lovely I don't know how to choose. Any advice? I got permission to share pix.
Bald pink boy: Easily the most outgoing, adventurous, and playful. I could easily see him doing well in our house except I have heard the baldies are harder to take care of and it's my first Sphynx! Also he wasn't as affectionate but still sweet!
Slightly fuzzy pink boy: So, so sweet. The cuddle bug of the family for sure. So laid back. I worry if he'd be up for the business of our house though.
Tuxedo boy: A little bit of a loner but otherwise playful and cuddly. Not as outgoing as the pink guys but very confident unafraid.
Grey/white: playful but erratic. Likely a little too unpredictable for our family as he is possessive of things and food.
How did you choose your babies? Any tips?
Sent from my iPhone using Tapatalk