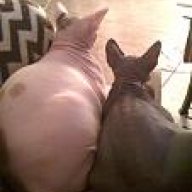 Joined

Aug 13, 2010
Messages

98
Points

34
So, we got adopted by a fur cat (that's what I call non-sphynx kitties) a couple of months ago and now Choppy's got a new girlfriend (he thinks, anyway)!
It was the whole super skinny (but super friendly) kitty shows up and, of course, I have to feed her (I hate to see a hungry kitty, can't abide it)...which turns into her living in our laundry room, and then moving to the sun room, and then getting free roam of the house (after a vet visit, of course).
Hubby protested every time she got upgraded (some silliness about us having enough pets already, but I wasn't really listening
)...silly hubby!!! Anyway, not only are hubby and "meow-meow" bff now (seriously, she sleeps on his side of the bed and he pets her until she falls asleep, lol!!!) but Choppy is seriously obsessed with her!
Choppy has fallen hard for the fur cat! He follows her around the house, brings his toys to her, and just sits and watches her all day long...I'd say he found a new girlfriend but the love is totally not reciprocated by meow-meow, poor Choppy! He's now officially a stalker!!!