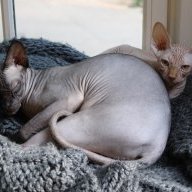 Joined

Sep 13, 2016
Messages

16
Points

14
Roquefort (the younger of my two cats) has had soft poop more or less since we got him. It's not watery but it's just always super soft and smelly. He eats fine and we've had a fecal test and parasite tests done and the vet says he's perfectly healthy and probably just has a sensitive stomach.

His poops got better when we had him on wet only Hills Prescription i/d but that stuff is so expensive I'm hoping to find something cheaper for the long run since he's not a picky eater. Our vet told us he really doesn't recommend going raw. I'm pretty sure he's good on wet food (we mix together wet and dry for his meals), but I need suggestions for dry foods for temperamental poopers.

We've tried purina pro plan sensitive systems and most recently blue buffalo sensitive stomachs. His brother has never had any stomach issues.

I'm thinking grain free might be the next natural step up. Can anyone recommend a reasonably priced dry food that's worked for them? (I'm willing to work my way up to the expensive options, but if a cheaper one can stiffen up his stool, I'd like to try that first).

We've already tried pumpkin and probiotics.