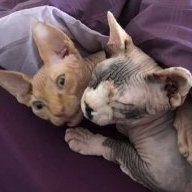 V.I.P Lairian
V.I.P Lairian
Joined

Sep 26, 2017
Messages

1,663
Points

238
Hi there happy new year to everyone !
Now down to business
When Cleo adopted me she was pink all over with very pale blue patches up and down her body I shall show you what I mean now a real beauty
Can you see what I mean ?
As Cleo got a little older these blue patches
Became a darker shade of blue , to the point I would say she was equal pink and blue ( is that white and blue ? )
I love cleo's markings she is my gawjus girl , I didn't realise these markings would develope to be so dark ! But I am really impressed with her colouring
Did any of you find this the case with their naked baby ? Il show you how dark her markings have become
This probably isn't the best picture I have of Cleo but you can see the changes !
So again did your little one change as he / she got older ?
Did you know their colourings would alter ?
Interested to know your replies
Hugs
Anita & Cleo xxx❤️❤️❤️