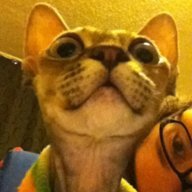 Senior Lairian
Senior Lairian
Joined

Jun 1, 2013
Messages

676
Points

153
Well, i know many other members live in different countries. But right now in Australia, it is Spring and by the weather it looks to be a very hot summer.
I know animals can get heat stroke, and some can die from it.
At the moment my Cleopatra SoftPaws doesnt seem too bothered by the heat, but she does lie down and sleep in the hottest part of the day. As a sphynx mommy, i am quite concerned that i didnt have anything in place to combat overheating, short of a cold cloth. The cold cloth wont work if i am not at home. Duh.
So i decided to look up cooling methods. The most promising was cooling mats and cooling food and drink bowls.
All the quality ones are waaaay out of my budget. So i settled for buying a cheap cooling mat. And as another budget compromise i decided to figure out how to make my kittys food and water bowls cool myself without breaking the budget.
For cooling the water, i have brought a small BPA free water bottle and frozen it with salt water half way. Salt in the water provides a natural antibacterial and it makes the ice colder. I then place it in a long shallow ceramic dish (like used in baking) with her drinking water in it. The ice bottle keeps the water cool so she can have a refreshing drink and cool down.

My second diy is a cold food bowl. I normally feed raw but as soon as it got hot, it has been impossible to leave any food out for her. I have had to just feed her dry bikkies. For those in the Usa, i got this idea from the Frosty Bowlz manufacturer. It will keep the raw in a cold state for longer. I really needed something like this, as my kitty is a grazer.
I found a glass Pyrex dish that has a matching glass lid, and when i flip the lid on the bowl it makes a nice shallow food dish!! So i am freezing sponges and salty water in Ziplock bags in the dish, so hopefully it works like a freezer pack!!