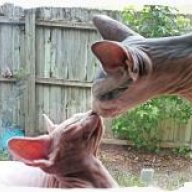 Senior Lairian
Senior Lairian
Joined

Apr 3, 2013
Messages

692
Points

178
Simba's had a long journey of health issues lately, he had a mass of struvite crystals and he was a hefty 14.8 lbs.
All the vets reccommended the prescription food, with numerous amounts of meds such as prednisone- an anabolic steroid, and dasaquin- a glucosamine supplement, & salt. The main problem with crystals is when the bladder is not flushed with water often enough to rid the bladder of the toxins and wastes it's desgined to elminate from the body. They add salt to these prescription foods to encourage more water intake, but salt ultimately will just dehydrate a cat that is having decreased water consumption in the first place.
I felt defeated and listened to the vet. I put him on Royal Canin Urinary S/O and eventually Hill's C/D. He was put him a high dose of steroids and glucosamine. I watched my baby have diarrhea from his meds, gain more weight, and wimper in pain from his bladder. I cringed when I read the ingredients on the prescription foods, It is suppose to be healthy and help him. But how is corn gluten and by products helping Simba? All it did was give him bloody diarrhea.
So I was at the end of my rope. I feed a high quality diet, and this food was more expensive than the food I had him on with quality ingredients. I took to my own research, I couldn't stand seeing him like this anymore. He was gaining more weights and had two accidents in the house from the urgency his bladder felt.
I went online and researched these prescriptions foods, looking for anything to validate them. Clincial studies? No. Accreditation? No. High Quality ingredients? No. The main cause of crystals is urine Ph and the over abundance of minerals, magnesium, phosphorus and calcium. Some people and cats cannot handle these minerals or digest them properly, therefore they are excreted to the bladder for disposal and create blockages. I dug alittle further and found the dry matter percentages of these mineral levels in the prescription foods. These foods are suppose to help rid crystals by having a low concentration of these minerals per 5.5 oz. I used catinfo.org mostly and found the levels of mineral content in a 5.5 oz can is .70%. The food Simba had been previously on was 2.36%! That percentage of mineral content was way too high for his body to handle. It is also important to never give dry food. Dry food is very bad for cats with crystals since it has a lack of water content. They even make those urinary foods in dry, it seemed very ironic to me.
So I did more research into foods that are not advertised as "urinary foods" but have the same percentage or lower of mineral content per 5.5 oz as these fancy prescription foods. This is the only thing I found special about these foods to set them apart from any regular cat food. There is many lists online, but the one I found helpful was on catinfo.org.
I also had a second set of perimeters in mind, weight loss. I came to contact with some surprising facts. Cat's bodies do not digest carbohydrates into energy like humans. Carbs are stored directly as fat on a cat and fat is actually used as an energy source somewhat. Protein is their main energy source. The food I had Simba on (Halo) was only 32% protein, 55% fat and 13% carbs. This is seriously unhealthy. I was feeding him pounds basically. My conclusion was to feed a diet at least 50% protein, no more than 40% fat and no more than 5% carbs. These were recommended by the vet and my own conclusion.
The excess carbs come from all the uneeded veggies & potatoes added into cat food, cats don't naturally eat that many veggies. The excess fat came from cheaper trimmings of meat. So I concluded to find a food that was high in protein, low in fat, and minimal to no carbs with a mineral percentage of .70% of lower based on urinary prescription foods.
I did my research and came back with two foods: Weruva Truluxe Steak Frites at .54% mineral content, & Weruva Cat's In the Kitchen Chick Magnet at .64% mineral content. Both of these foods have less than 5% carbs and minimal fat.
Simba is doing so well over the past three months that he has lost 5 pounds and is at 10.2 pounds. He has doubled his energy, and is much more playful. He has zero crystals, or stones. He has had no accidents around the house at all.
I wanted to share this with you all to know that you never have to settle for what doesn't seem like the best solution for your baby. I was not satisfied with Simba's progress so I did hours of research and came back with amazing results. I shocked my vet who was against me at first. Simba is much happier and so am I! He is lively, happy and amazing. I know someone might be in a similar boat as me, so I wanted to share my results, in case the research overwhelms you. It was hard but so worth it. Simba will be on these foods for life, but he has zero issues! No meds either! Never settle until you know you're doing the best you can. I knew Simba deserved better than what was prescribed. I hope maybe this helps someone, then it was worth typing.