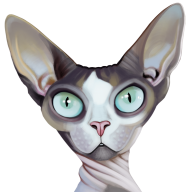 Administrator
Staff member
Joined

Jan 13, 2009
Messages

23,557
Points

643
These plants have been known to make cats ill or possibly die from ingestion, also some tips below to deter the sphynx from eating or having interest in the plants.
Here are some tips to deter your sphynx from eating or chewing the plants.
You can sphynx-proof houseplants by making them smell not so inviting. Most sphynx dislike the smell of citrus. Throw orange and lemon peels in your potted plants. Another option is spraying the leaves directly with diluted lemon juice or orange oil. Also, not super cheap but how about storing the plants in a large dog cage? The plant is still accessible for watering but keeps the little paws and whiskers away from the plants.
Read more at Gardening Know How: Indoor Plants Cats Avoid: Houseplants Cats Won't Chew On Or Potty In
Safeguarding Plants From Cats – How To Keep Cats Out Of Houseplants
[A]
Aloe
Amaryllis
Andromeda Japonica
Asian Lily (Liliaceae)
Asparagus Fern
Australian Nut
Autumn Crocus
Avocado
Almond
Alocasia
Aloe Vera
Apple (seeds)
Apple Leaf
Apricot (pits)
Arrowhead Vine
Arrow Grass
Azalea



Baby's Breath
Black Locust
Black Walnut
Bouncing Bet
Brackenfern
Buckeye and Horsechestnut
Bulbs
Common Burdock
Buttercup
Bird of Paradise
American Bittersweet
European Bittersweet
Branching Ivy
Buddist Pine
Bane Berry
Bayonet
Beargrass
Beech
Belladonna
Black-Eyed Susan
Bleeding Heart
Bloodroot
Bluebonnet
Boston Ivy
Box
Boxwood
Buckeye
Burning Bush

[C]

Caladium
Calla Lily
Castor Bean
Ceriman (aka Cutleaf Philodendron)
Charming Diffenbachia
Chinaberry Tree
Chinese Evergreen
Christmas Rose
Clematis
Cordatum
Corn Plant (aka Cornstalk Plant)
Cutleaf Philodendron (aka Ceriman)
Cycads
Cyclamen
Cactus
Candelabra
Cherry (seeds and wilting leaves)
Cherry (most wild varieties)
Chrysanthemum
Cineraria
Coriaria
Corydalis
Creeping Charlie
Crocus
Croton
Crown Of Thorns
Cuban Laurel
Cutleaf Philodendron
Cycads
Cyclamen

[D]

Daffodil
Day Lily
Devil's Ivy
Dumb Cane
Deadly Nightshade (See Nightshade)
Datura
Death Camus
Delphinium
Dicentrea
Dieffenbachia
Dracaena Palm
Dragon Tree

[E]

Easter Lily
Elephant Ears
Emerald Feather (aka Emerald Fern)
Emerald Feather)
English Ivy
Eggplant
Elaine
Elderberry
Emerald Duke
Euonymus
Evergreen

[F]

Fiddle-Leaf Philodendron
Flamingo Plant
Florida Beauty
Foxglove
Fruit Salad Plant
Ferns
Flax
Four O'Clock

[G]

Glacier Ivy
Gladiolas
Glory Lily
Gold Dieffenbachia
Gold Dust Dracaena
Golden Pothos
Green Gold Nephthysis
German Ivy
Giant Dumb Cane
Glocal Ivy
Golden Chain
Golden Glow
Gopher Purge

[H]

Green False Hellebore
Poison Hemlock
Water Hemlock
Buckeye and Horsechestnut
Horsetail
Hahn's self branching English Ivy
Heartleaf Philodendron
Heavenly Bamboo
Holly
Horsehead Philodendron
Hurricane Plant
Hyacinth
Hydrangea
Heart Ivy
Heart Leaf
Henbane
Honeysuckle
Horsebeans
Horsebrush




Iris
Indian Rubber Plant
Indian Tobacco

[J]

Jack In the Pupit
Java Beans
Jessamine
Jimson Weed
Jonquil
Jungle Trumpets
Japanese Show Lily
Japanese Yew (aka Yew)
Jerusalem Cherry

[K]
Kalanchoe

[L]

Lace Fern
Lacy Tree
Lily of the Valley
Lacy Tree Philodendron
Lantana
Larkspur
Laurel
Lily
Lily Spider
Locoweed
Lupine

[M]

Macadamia Nut
Madagascar Dragon Tree
Marble Queen
Marijuana
Mauna Loa Peace Lily (aka Peace Lily)
Mexican Breadfruit
Mistletoe American
Morning Glory
Mother-in-Law
Majesty
Marigold
Mescal Bean
Miniature Croton
Mock Orange
Monkshood
Mountain Laurel
Mushrooms

[N]

Narcissus
Needlepoint Ivy
Nephthytis
Nightshade

[O]

Oleander
Onion
Orange Day Lily
Oriental Lily

[P]

Pigweed
Christmas Plant (Poinsettia)
Poison Hemlock
Pokeweed
Panda
Peace Lily (aka Maana Loa Peace Lily)
Philodendron Pertusum
Plumosa Fern
Precatory Bean
Parlor Ivy
Pathos
Peach (pits of)
Peach (wilting leaves and pits)
Peony
Pencil Cactus
Periwinkle
Pimpernel
Poinciana
Poison Ivy
Poison Oak
Poppy
Pothos
Pot Mum
Potato
Primrose
Privet

[Q]

Queensland Nut

[R]

Red Emerald
Red Lily
Red Maple
Red-Margined Dracaena (aka Straight-Margined Dracaena)
Red Princess
Rhubarb
Rhododendron
Ripple Ivy
Ribbon Plant (Dracaena sanderiana)
Rubrum Lily
Rosary Pea
Rubber Plant




Saddle Leaf Philodendron
Sago Palm
St. Johnswort
Satin Pothos
Schefflera
Scotch Broom
Skunk Cabbage
Silver Pochos
White Snakeroot
Snowdrops
Snow On The Mountain
Spider Mum
Split Leaf
Spotted Dumb Cane
Spraneri Fern
Spurges
Staggerweed
Star of Bethlehem
Stargazer Lily
String of Pearls
Striped Dracaena
Sweetheart Ivy
Swiss Cheese Plant
Sweetpea

[T]

Tansy Mustard
Taro Vine
Tiger Lily
Tobacco
Tomato Plant
Tree Philodendron
Tropic Snow Dumbcane
Tulip
Tulip tree
Tung Tree

[V]

Variable Dieffenbachia
Variegated Philodendron
Virginia Creeper

[W]

Warneckei Dracaena
Wood Lily
Black Walnut
Water Hemlock
White Snakeroot
Weeping Fig
Wild Call
Wisteria

[Y]

Yellow & White Sweet Clover
Yesterday, Today, Tomorrow
Yew (aka Japanese Yew)
Yucca
Last edited: