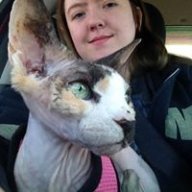 Joined

Jan 4, 2017
Messages

214
Points

81
Hello all!
questions for those who feed raw diets to their meowers. How do you all compensate for the fact that raw meat poses incredible disease risk? My personal vet is very adamantly against making the switch and when I brought it up just out of curiosity she all but yelled at me not to do it. (Not in a bad way. She is awesome and has saved my meowers several times.) I trust her and respect her opinions and have shadowed her in the past as I am studying Veterinary Pharmacy. (I mention this because I dont want anything thinking my vet is abusive or unprofessional. I do really respect her knowledge base. Passionately might be a good way to describe how she said it.)
But the point is valid. We do not eat raw meat because we know it can make us sick. It doesn't every time, but its not necessarily good for us. Raw poultry is at high risk for salmonella as well as other bacteria growth if its not fresh or was stored improperly. Food used for humans is NOT sterile. It doesn't have to be according to the FDA and is allowed to have a certain number of bacteria per square inch or per pound (in the United States at least. Im not familiar with other countries laws). Everyone knows that we shouldn't eat raw cookie dough (Though many of us do O.O) because of the raw egg risk. Food sold to consumers HAS to temp at 165 to be sold regardless of meat type. This is because that temperature kills most of the bacteria that makes us sick. Proper sanitation is very important when preparing food and raw meats can never be cut on the same cutting board as veggies or fruit. (Ive worked in quite a few kitchens to put my self through college. its been a pain XD) I've had food poisoning before from improperly prepared meat before and at one point in that day I actually thought I might die. Alas, I did not, but it was a horrible experience.
I do understand the idea that a raw diet mimics the natural diet a cat would find in the wild, but cats will eat pretty much anything in the wild or not. Mine personally eats plastic and licks the carpet. Also, in the wild, cats have a much lower life expectancy. even factoring in predation, starvation, and infection not coming from food, food borne illnesses occupy a large portion of death in animals. In the wild, a cat hunts a mouse, which just prior to being killed by the cat had been rooting around in another animals waste, the cat just ingested another animals waste which could then transfer disease to the cat. That is in the wild. Now in the wild, that cat might not get sick because its gut flora and bacterial load in its digestive tract are conducive with that life style. A house cats gut flora will be drastically different and therefor that house cat might get sick where as the other cat would not.
when it comes to raw diet, the meat is obtained days before it gets to the table. The cow or chicken is slaughtered, sent through a factory where the meat is harvested, packaged, shipped, stocked on the shelves, purchased at the store (prepackaged or at the butchers block which lends to another source of possible contamination) then taken out of refrigeration to send home then prepared. Every step introduces possible sources of contamination. cooking that meat would eliminate most of those bacterial colonies, but eating it raw is how food borne illness is passed along.
How does the raw diet take into account This risk and compensate for it?
Please no one take this as aggressive, Its just something that im very curious about!