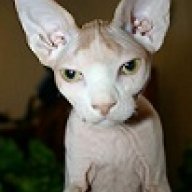 Senior Lairian
Senior Lairian
Joined

Oct 16, 2010
Messages

508
Points

0
Hello.
Last week me and Darwin went on a trip from Stockholm to Småland, a region in the south of Sweden where my familly is from. I go there regulary but it was a first for him. My father is a bit ill and is not getting any better so it is important for me to visit as often as I can now for that reason but also to meet other familly and friends from back in the day.
Here we go.
The 260 miles trip went just fine, Darwin has no issues with travelling at all and a few minutes into the trip he just find a cozy place to rest.
Our first stop was at an old school friend of mine and there Darwin met a dog for the first time in his life and also her two house cats. It went great. The ****er spaniel sniffed him out and decided he was not a cat so left him alone, he normally hates other cats than theirs. The cats were curious and followed him around watching in horror as Darwin made their house his own in 10 minutes.
One of the daughters in the familly almost wouldn't let us leave again when time came. She is nagging her mom for when we are coming back again all the time now.
After that we went to my moms place for two days. There lives a terrier and a VERY territorial cat so this was gonna be the interesting part of the trip as far as Darwin was concerned. Moms white cat beats up every other cat that gets within 500 yards of the house out in farm land. He is however outdoors 20h/day so if things turned ugly we could separate them for the hours he was in. My mom had met my last sphynx and she really likes them so she was excited to meet Darwin and her hubby is a big animal lover. They take very well care of all things alive and even feed a couple of hundred birds for a grand total of $2000 a year. Their yard is magnificent. Tons of flowers and always a lot of birds around.
All went well at this stop as well, almost that is. Once Darwin tested out the dogs food and got barked at and chased away. The other thing was the white cat. The first 24h there were no problems. He came in to eat and we kept a close eye on them to save Darwin if there would be an attack. It went absolutelly perfect but it was obvious that he didn't realise Darwin was a cat so he was mostly curious. They even ate together without incident. The second day though word had reached Disa (cats name) that yes, Darwin is a cat. He attacked without warning and chased him around the house and beat him a bit. Darwin shock and went right back to say "Hi, don't you love me? Everyone does." And got another chase plus beating. Then he learned that no, Disa probably didn't love him after all.
The stay at my moms house gave Darwin something special though. He found a religion and something to worship. His god is now Fire and his church is at my moms stove heater. He watched it as in trance for hours rarelly to be found more than 2 ft from it.
The last night there my brother, his wife and his cat allergic son came to visit and Darwin put on his sphynx charm as usual making my bro's son screaming for a sphynx of his own.
So, it was finally time to break up and leave my moms house to go see my father who is sick with Parkinsons and having a hard time getting around now. In the house it's normally quite ok but for the rest he needs help now. Breaks my heart to see but in some way the course of life has to be accepted and even he does, better than me at least.
On the way over there I made a quick stop at a store to get some wet food for Darwin and when I came out a woman was glued to my car, staring in at Darwin. Very small town and there you don't see pure bread cats very often. Everybody gets their cats from the closest farm.
"You wanna meet him?" She shock at the sound breaking her stare.
"Is it yours? Can I really? Really?"
"Sure" I opened and got him out. She took him like he was made of glass.
"Don't worry he is not fragile, he's just like any cat only warmer and naked"
"Aaaaah. This is the best thing ever. Thank you soooo much for this."
I ended up giving her information to the Swedish Sphynx club and now she is in the market looking for a nudie.
So, last stop at my dads. No pets there. My dad had a dog that he loved more than life almost but he is dead now and dad is in no shape to have a dog anymore. I suggested a normal house cat that could go in and out as it pleased but his wife don't like cats at all. She tolerates and even enjoy them as guests but not as a pet of her own. She is the most kind person you would ever meet though so don't judge her on her cat views.
My two sisters came to visit while I was there and one of them fell head over heals in love with Darwin in a matter of minutes and almost didn't let go of him when she was going back home again so I had to crow bar him from her embrace.
And my dad also found a friend in my Sphynx who I think felt that something was wrong with my father. He took naps with him and laid on him whenever he rested, really cute.
Then after two days there we went home to pick up our latest addition to the familly of me and Darwin.
(have to divide the post, was too big)