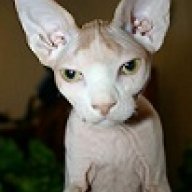 Senior Lairian
Senior Lairian
Joined

Oct 16, 2010
Messages

508
Points

0
So, litter ran out yesterday this evening I went to my pet store. There are closer ones but I like the guys at my place and the very personal service they have.
A guy working there have been nagging me a bit to bring my sphynx with me some time and this time I remembered so Darwin got tucked inside my winter jacket with the zipper low enough for him to have his head out to see what was happening.
Outside the winter temperature of below freezing didn't get to him there and after a few minutes the car was warm enough for him to stroll around a bit the last bit of the way.
At the stor I tucked him in the same way with his head out and rolled inside.
I didn't even get through the door before the guy saw him.
"Sphynx! Sphynx guys!"
And then he was surrounded and I left him with them while I went to get my EverClean and some new feather on a stick toys.
The store is quite big but Darwin never runs away from people so we let him roam a bit and explore all the things he was interested in.
The guy working in the store is a huge sphynx fan so he crawled around on the floor with him quite a bit.
He was the one that asked me just as I was leaving if Darwin never gets cold. He then showed me some polos and stuff for dogs (you don't find cat clothes in Sweden really as it is quite looked down on to dress cats here) and being caught in a weak moment I bought a polo

that was the right length but a bit bulky. It was so cheap I just couldn't say no but in my mind I told myself that I don't have to use it. I'm just gonna buy it.
On the counter a girls dog was sleeping and while I paid I let Darwin say hi to him. He likes all things with a pulse and was soon crawling over the dog who just took it.
Now to the (for me) hard part.
Back at home I had a bit of a pulse. Like when you had done something you really shouldn't when you were a kid and didn't know if you were gonna get caught.
The polo.
I decided to ignore it for a while and got on the web but after half an hour it was laying on the side of my computer. Not to be used but just to see it. After a while Darwin came from the food bowls and wanted to snuggle and I just couldn't resist. :.(
It turned out he didn't mind the slightest though and accepted the polo like nothing. I was still a bit almost nervous though

and Namir didn't know what a hell to make of it. He followed Darwin around sniffing him out constantly for ten minutes not understanding how his m8 could change looks like that.
I am actually sure Darwin even LIKES having it on from the first minute. No struggle, no trying getting it off or walking strange. When he had played a bit he went to sleep on my leather sofa. He never do that normally. Always in a sleeping bag, inside my t-shirt or on a blanket.

Now...
I am still a bit conflicted here
Have I passed a line that can't be crossed back now? Will I have a wardrobe of novelty clothes by the end of next month? This polo I can justify for most people with Darwin being a bit cold sometimes but a latex French Maid - dress would be a bit trickier. Will it come to that now? hehe
Just as big of an adventure for me as for Darwin.
Volume 2
The End
Last edited: