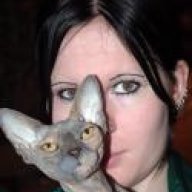 Joined

Jun 27, 2010
Messages

537
Points

0
Saturday morning Dita and Alice had yet another fight. This time Dita bit Alices thigh/butt region and I cleaned it and hoped it would be okay.
This morning Alice had a giant (nickle sized) abscess and some smaller oozy ones. So I cleaned them, then realized how bad it was and took her into the emergency clinic, it was the only one open on Sundays here.
They had to drain the abscesses and put plastic drains into them!

I was so scared. She's on pain meds and antibiotics. She has to wear a little collar thingy for a few days.
But I'm scared. It was only about 24hours so I hope I was fast enough getting her in there.... But the little plastic things have bled a bit, and I know they obviously aren't going to be air tight, so if she moves they'll bleed right? It's normal? Please tell me it's okay. I'm so scared that I'll mess up and lose her. I don't want to lose my baby. She's so tiny and sleepy (but she had a long day of vets so that's normal, I hope).
Has anyone else had a drain tube thingy in their baby? I'm so freaked out, she looks like she has straws coming out of her and I don't know what to expect.....or how to keep the collar thingy in place when I'm gone. It just doesn't seem to fit and I can't get another, used up all my savings just paying for it.....I'm scared