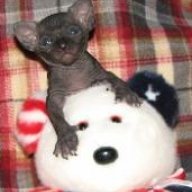 Senior Lairian
Senior Lairian
Joined

Jan 14, 2010
Messages

721
Points

0
Okay, background...

The FIRST thing this Cat sings onstage is...

"Were you there when the Pharoahs commissioned the SPHYNX?"

Since I can't give links, I'll explain...

Went to see 'Cats' last night... There is ONE Cat without legwarmers, without the big floofy headpieces, with a slim and sleek costume and that is Cassandra. Went to research her today and found out she's ASSUMED to be an Abby!

I'm outraged! (Hehe). She is CLEARLY a Sphynx! Clearly this is a case of mistaken identity!