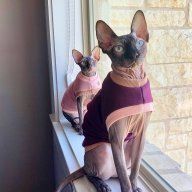 Senior Lairian
Senior Lairian
Joined

Mar 28, 2018
Messages

601
Points

198
To passs the ever-so-slowly moving time until Gotcha Day...
... I went on my breeders FB and obsessively went through her entire post/picture feed over the last 4 years and basically tracked down my kitten's family line from kitten to adulthood .
That's normal right?!?
On mom's side, I was able to go back three generations and even found an aunt and uncle with IG pages. Dad was harder because he came from another breeder, but I did find another litter he sired with mama. Here some of what I found:
Mama & Auntie as adults:
Daddy:
Mama as a kitten vs Kenzo:
Grandpa & Grandma:
Don't judge me, I'm excited lol! I would never admit doing this or share my weird with anyone irl, but I figured there must be other crazies in the community .
-Monica