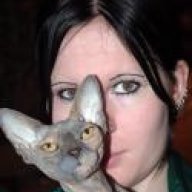 Joined

Jun 27, 2010
Messages

537
Points

0
So Dita saw the vet today. We're clear of ear mites! The rash seems to be just from lack of bathing, and her werid back seems to just be her body storing some fat! So yay!
However she does have a bad upper respitory infection, but he put her on doxy for a week to clear it up.
So my quiestion is how do you give a cat pills? I've done oral meds but they were usually liquid. The pharmacist said to crush them into food for her. BUT the instructions say to eat an hour BEFORE or two hours AFTER eating? So I'm confused.
Do I just force feed her or mix them with food? Help?