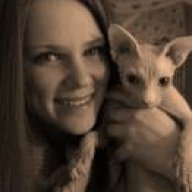 Joined

Jul 19, 2009
Messages

108
Points

41
I've had my sphynx kitten now for about a month and recently just took her to the vet. While I was there the vet assistant asked if her head usually tilted off to the side a little, I looked and noticed it and said no. Long story short I asked them to look at her ears because when I clean them I notice that they are pretty nasty and one more so than the other, which the dirtier one is the side her head leans towards a little. So he looked in her ears and said there was a lot of wax build up...I had just cleaned her ears before I took her to the vet. So he gave me a piece of paper with directions on how to make a swimmers ear solution.
Yesterday I noticed her head was still tilted/leaning to the one side again and looked in her ear and it was like I never cleaned it, and today the same.
My question is has anyone ever dealt with this? Or know what could be causing this? Or knows the solution to my problem? My vet recently retired and this is a new one...and do not particularly seem to agree with on how he handles things. So maybe he missed something?
This is my first sphynx and every little thing worries me...I am super attached and would hate for anything to be wrong. Sorry for such the long rant....I am just concerned.
Thanks
and this seems like a nice place