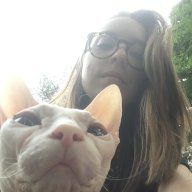 Joined

Mar 14, 2019
Messages

234
Points

81
Hi there, my name's Al, short for a girl's name
I own a two year old husky and I will be picking up a 3 year old don sphynx mama that is retiring from a breeder next weekend..
I am feeling positive about the whole situation because:
1) My dog is well exercised and mostly sleeps when indoors. He is very interested in cats but most of them run away from him so he never gets to say hi, including my parents' and grandparents' cats. He's never attacked one, although they have swatted at him. He's also very smart and sweet, and I believe in my heart that he would never hurt a fly and that he will understand a new member of the family. That being said, I NEVER plan to leave the two alone unsupervised. When we're not home he stays in the master bedroom, and I have a room downstairs for the cat to be confined to with litter box access and lots of cat enriching amenities.
2) Mama cat currently lives with a maltese (not really comparable, but), they get along and her previous owner thinks that as long as there aren't other CATS to bug her she'll be happy.
3) I have a three part, gradual pet integration plan that my partner and our housemate are briefed on and on board with. It could take a month before they are in the same room with him off leash but I want to give them the BEST chance at coexisting and hopefully becoming friends.
Still, I've heard all the horror stories about cats and dogs so I'm of course a nervous wreck. I have lurked a lot and read a lot of advice already, but I will probably post in the future about my (very detailed) plan to get some feedback. Also, my partner has cat allergies so I'm trying to mitigate that. There's a lot of variables and hurdles that I'm sure we'll have to deal with for this to work out (and if it truly doesn't, we'll cross that bridge) so I'm hoping being a part of this supportive community will help me!