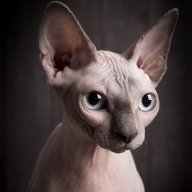 V.I.P Lairian
V.I.P Lairian
Joined

Dec 8, 2016
Messages

1,718
Points

218
Hi!
Astrid's feeder came today! They came back in stock just in time thankfully.
Was pretty easy to set up, had to manually set it up to Wi-Fi. The "easy" way was not working at all lol of course.
It's a bit noisy, but it doesn't seem to freak Astrid out. I have it set for her four daily feedings for now, so she was able to have one feeding tonight from it.
The schedule set up was super easy too, the only "hard" part was figuring the times out in military time lol. Definitely not one of my strong suits.
It seems very sturdy, I would be surprised if Astrid broke into it. If she does she can have it lol to open it you have to push down two buttons and lift the lid. Unless she got a crane, she couldn't tip it. It weight more than her.
The video camera in it is pretty sweet, decent quality too I think, considering it's in a feeder.
The customer service is great too. It's a family business kinda thing, so was actually emailing the CEO when asking when it'd be back in stock.
Got an explanation as to why the Canadian one is more expensive than just exchange too: it costs them a lot to ship it, and Amazon will jack the price up by 25$ if there's only a few in stock.
So on first impressions I would definitely recommend! I will update once I get to actually using it
I really like the look of it, was bigger than I though it was though lol but I'm not sure what I was expecting
See it's pretty decent quality lol certainly an interesting angle
And of course, Astrid had to squish into the box lol