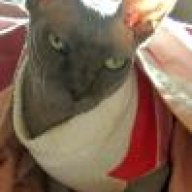 Joined

Mar 25, 2010
Messages

234
Points

0
I've developed a bit of a routine with my 3 kitties. When I get home from work, I let everyone out with me for 10 or 15 minutes of outdoors time. There is usually a "guard" sitting in the street-facing window on look out for me, who, when I'm spotted, meows and runs for the stairs - the other two follow.

Yesterday when I opened the door, I was almost taken out by a flying sphynx. I have a very tiny porch and stairs that lead up into the living room. Teeka launched herself from the mid-way point of the stairs, flew over the other two cats, out the apartment door, landed on the threshold of the door for outside and then launched herself from the door onto the sidewalk (about 10 feet).

Hyde, Zeke and I all stood there with rather astonished looks on our faces while Teeka rolled around on the hot side walk in a frenzy of Sphynx joy.

Guess I'm going to have to get a net in order to catch her now?