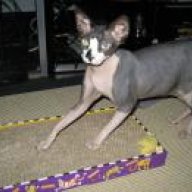 Joined

Jun 29, 2009
Messages

72
Points

0
Why do you consider Sphynx to be the best breed (if you do)? If you were to sum up your reasoning into 1-2 sentences, what would you say?
I am thinking of adding some quotes from Sphynx lovers, to the book.
Also, this book is going to be dedicated to the Sphynx kitties taken too soon by HCM . If you have any information you'd like me to include on HCM, please let me know- Whether it's from personal exprience, or a site you feel has good info and needs to be shared with the public.
And last, but not least- do you have any bath time pics you'd like to share in the book? I have 1 photo of a Sphynx taking a bath, and that's it! I would like to show how good most of them are with the water :-D I am still taking general submissions as well, but time is running out if we are to get this done by Christmas ;-)
cchloerun@gmail