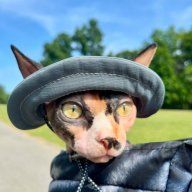 Joined

Jan 16, 2011
Messages

25,359
Points

673
Fun Friday Cat Fact of the Day:
Head bunting:
I know many of us in the community talk about head butts/head butting with our cats. But the correct term is actually "head bunting." Cats have scent glands all over their body and they use them to leave a scent mark on things.The bunting and rubbing are reserved for bonding, social, comforting and friendly interaction with us or other animals.
So whether you use head bunting or head butting, it really doesn't matter...just know your baby is showing they love you/own you.
Photo Credit:
@Nefertari