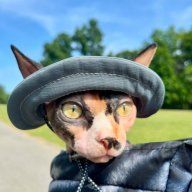 Joined

Jan 16, 2011
Messages

34,100
Points

673
Cat paws are made up of several tiny bones, joints and soft tissues (muscles, ligaments, and tendons.) Just like humans who develop arthritis in their ankles, wrists, toes, and fingers, cats can suffer from joint disease in every digit and moving part of their paws. If it is an area that can be flexed, it can be afflicted with osteoarthritis. This is why it is important to monitor your cat for signs of pain, especially as they get older so you can discuss with your vet.
For more information about cats and this amazing breed, check out the free Sphynxlair forum at
www.Sphynxlair.com
. Sphynxlair is more than just a FB page.
TGIF Lairians