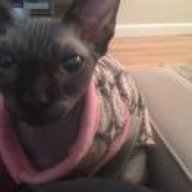 V.I.P Lairian
V.I.P Lairian
Joined

Jul 25, 2009
Messages

1,242
Points

158
Sophie has been home for 3 days now. She is either cracking me up or being so cute and snuggly.
- She has had one bath which she hated to much that if I'm carrying her and I go near the kitchen I get clawed to death.
- She attacks laptops and its so funny I don't stop her right away. She sits on the keys so it starts beeping and she scratches at the screen.
- I love when she is playing with a toy then picks it up and runs off with it in her mouth- so cute!
- The other night she attacked my face- claws in thank goodness- I just felt two little paws jump on me in my sleep. This morning she began a sequence of kneading my stomach then biting it then repeating. How does she come up with these things?
She's been such a joy!
Last edited: