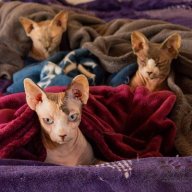 V.I.P Lairian
V.I.P Lairian
Joined

Aug 21, 2015
Messages

2,067
Points

338
On Wednesday, I asked my landlady if we could offset the rent against the deposit.
She refused, because "That's not how it's done."
I said she could accommodate me a little bit, considering I've been looking after her horses, dogs and cats 2-3 times a week, almost the entire time I've been here (1 year, 9 months) and she never had to worry about them.
She flipped, and told me she "didn't have to cut my hair and she did that for me" (I've had maybe 5 haircuts, just the tips, mind you, not a style and blow dry kind of thing.) Then she went off on me how I didn't cancel properly (!! News to me, she's had like 4 emails stating that!!) and I'm supposed to find someone to rent after me, that it is "the law" (No, it's not. If I find someone, I can get out of the contract sooner, but it isn't my job to find someone to rent the place.)
She then went "It's just feeding, it's not that much." and I pointed out that no, it's not "just" anything.
I drag hay down, I feed, I water, I rug, I turn out. (And muck out, even tho she told me to just "push the poop to the wall", because I don't leave horses standing in poop.) And I then drag more hay and feed down, bring in horses, feed, take off blankets, drag heavy wet blankets into the barn and hang them up to dry, make food for the next day. I let the dogs out 4-5 times a day, because otherwise they poop into the room they're locked into and guess who ends up cleaning that up? I feed and water the dogs, and the cats.
I let the dogs out at 11pm, in fricken snow storms, freezing my butt off while I wait for them, traipsing to and from my front door to the barn, in the dark, with a torch, and navigate the treacherous junkyard she has in there, because the light switch is at the back of the barn, no the front.
No, no blankets atm, but from November to March, it was blankets on two horses every day. I've had no running water at the stables since February. So I drag buckets. In Feb I brought buckets from my apartment all the way to the stables because the hose would freeze.
But it's "just feeding" and what the hell am I complaining about.

Then, yesterday, I get a whatsapp message...
"Since you're so overworked, I'm organizing my animals myself. You can look after the garden snails if you want. And the wheelbarrow and feed bowls are to go back to where they belong, so people can find them. And your horses can only go on a small piece of grass. Grazing starts 1st Mai and no sooner. My generosity has limits, and remember you're using 4 stables and only pay for 2!!!"

Erm. First of all, I have 2 horses. I don't use 4 stables, I use 1 stable with 2 stalls.
I was told which wheelbarrow to use, and that's the one I was using. Granted, it stood in that stable, but it's not like "people can't find it".
HER horses are grazing. Mine are not allowed.
And... HER GENEROSITY?? EXCUSE ME???

I cannot believe I am being bitched at and called out about looking after HER (!!!!!!!) animals!!!!!
They are not my responsibility, period. Nor did I say I wasn't going to feed them, I simply said she could meet me half way because I've done her a favor every fricken WEEK.

Now... I've paid for 5 bales of hay to be delivered by the farmer.
I'm on the 4th bale. She's just opened the 5th. But I'm guaranteeing she refuses to pick up the 5th bale.
She has NOT paid me back for her horse feed, the collection of that bale she just opened, or the meds I ordered for her with my stuff.

If she refuses to pick up the bale (which she will), or intends to charge me for collecting it... I'm going to head into town and get legal advice, despite the costs for a lawyer.
I'll sue her for boarding the horses elsewhere due to her using that bale... without paying me for delivery. Since I need feed for them, I have to take them elsewhere. It's that simple.
Somehow I don't think a judge would side with her, considering I had NO HEATING in February, for 2 weeks, with -28C outside. (I have photographs of the temperature in my bedroom and kitchen... 7C in the bedroom (it was 5C when I woke up) and 11c everywhere else.
Minimum temperature indoors in the winter months is 20C between 6am and midnight, and even after that it cannot drop below 17C.
This apartment is at a 16C constant right now (she turned the heating off 1st April -- which is also illegal) with the windows open and the kitchen door open.

I am so fricken done. I'm trying to see if the removal people can come sooner, but I'm not holding my breath.
I move 17th May and it'll be hell until then.