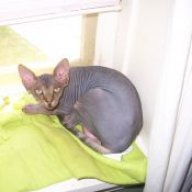 Joined

Oct 11, 2009
Messages

287
Points

61
I'll post all the details later but...
Haji was playing on some metal shelves in my bathroom that are unsecured and free standing. He tipped them over and when he did the bottom rung of the shelves snapped the water intake PVC pipe to the toilet and water went EVERYWHERE! a 1/4 inch pipe spewing water for a solid 10-15 minutes.
I live in a self managed condo building and none of us knew where the water shut off was. Had to call 911 (fire station is 2 doors down) and they came and turned off the main water supply to the building.
Now I am waiting for the 24 hour plumber and my homeowners insurance claims inspector to come out.
What a cat!