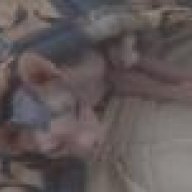 Senior Lairian
Senior Lairian
Joined

May 27, 2009
Messages

389
Points

58
First off - Thank you everyone for the love and support you offered me over the sudden and tragic loss of Miss Cali. I still dearly miss her, but the shock is slowly starting to wear off and life is getting back to normal. Haley on the other hand hasn't seemed to miss a beat! I'm so glad I took her and Cali in, Haley has become even more bonded to me then Oogie! She's always following me around the house, taking every available oppertunity to snuggle with me, and has truely become my best friend. It's almost as though Cali's sudden death brought Haley and me even closer together - She seemed to sense I needed comfort and was happy to oblige, one thing I've always been a softie for is a cat that kisses, and Haley sure gives out the kisses! So far nobody but me has been deamed as good enough in her eyes to get her special kisses, she's truely my heartcat. I've had some very special cats before, but none who have stollen my heart so quickly and so completly as Haley has. While having Haley doesn't make up for loosing Cali, her loving, devoted presence sure does make it easier to move past Cali's death.

Her and Oogie are also becoming fast friends, somehow I had a feeling they would. There's a little resentment on both parts at moments, especially when they both want my attention at the same time, but after the first couple of days, there's been no hissing or growling - Just on occasional dirty look! And I've caught them snuggling together on several occasions, it's a process getting them use to each other, but I'm sure in time they'll only become closer.

In a year or two, I think I want to add a 3rd Sphynx to the family again in honor of Cali, but not now. Right now I want to enjoy the 2 I have, and allow myself to completly get over Cali's death. It just happened so fast, and so unexpectidly, it's really knocked me back a few steps. But Cali died knowing she what a real home felt like, and that alone makes it a bit easier to say goodbye.