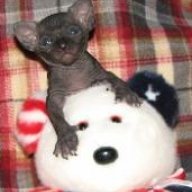 Senior Lairian
Senior Lairian
Joined

Jan 14, 2010
Messages

721
Points

0
Hi Everyone,
I sent home one of my original girls to her new pet home today... I am thrilled to pieces because she went home with a couple whom I've gotten to know very well over the past eight months (they were bringing home a pair of kittens that got very sick after their shots and ended up passing away- it was very hard on us all!)- I know they will spoil her and love her rotten and she will be the pampered Princess she was born to be (she has always been pampered, but now- no more babies ever!)...
BUT I'm sad too!

I will miss her so much- she had the best personality of any of my cats and I just wish I had more ROOM and MORE TIME! I had fiddled with keeping her as a spayed pet, but in the end- I know she'll get more attention in a home with just one more cat (they are actually bringing home one of the baby boys in 7 more weeks) then she could get here in a cattery setting.
She is actually this couple's FIRST pet! They've been together like 8-10 years, but never had a pet. They've went and bought all kinds of goodies and just are the best home.
Bittersweet day!