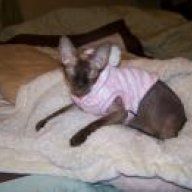 Senior Lairian
Senior Lairian
Joined

Apr 7, 2009
Messages

893
Points

88
First off I would like to wish everyone a very happy Thanksgiving and if anyone gets a picture of their cats straddling the turkey I would love to see it
:Laugh:
I don't get to get on as much as before because I can't bring my computer to work anymore because I had this funny habit of not doing my job, so I had to choose...stupid job

Last few weeks have been pretty tough because I'm trying really hard not to ring Meecho's tiny little neck
She has a new habit that is slowly killing me. On the upside she isn't so much the night owl anymore. When it's bed time she may go wander for ten minutes or so but then she comes right to bed. Nope now she's decided that since she gets soooooooooo much sleep at night, she is going to be my own personal alarm clock. A very loud, whiney, and not to mention early alarm clock

To be honest if I had to choose one or the other I would rather she partied all night. Shoot at this rate I'll even show her where we keep the liqour:Laugh: I wish my spending habits for her had slowed down, but I think I'm actually spending more then I ever did. Buying her that pink heart wardrobe didn't help
Funny thing is, as much as she hates her clothes, she loves the closet. Everytime I open it she starts sniffing at her dresses and checking herself out in her mirror. I swear she is such a little diva. Well I'm gonna get to bed since my alarm clock will be going off anywhere between 4-5am

All I can keep telling myself is....I love her, I love her, I love her...then why do I want to kill her

:Laugh: Happy turkey day guys!!!!