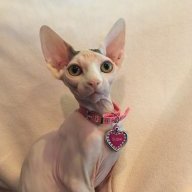 Joined

Aug 10, 2015
Messages

133
Points

41
Hello fellow "Owned By Sphynx Humans "I wanted to introduce myself & let everyone know about our complete Sphynx line for the Sphynx breed that is 100% organic and used by well known breeders in California .
Works amazing ! No harsh chemicals or words you can't pronounce . This breed has special needs with their delicate skin . They get clogged pores, they can break out, over washing causes dryness and irritated skin, or you just can't seem to get those babies clean!
Take a look at
www.OrganicallyBeautifulByJC.com
we have natural detox bars to remove pesky black heads, and ever so gentle liquid soap, bar paw soap, and baby albino soap. Everything is #PAWFECT & tailored to the breed and their needs.
Many times I see people using human soap or dish soap on them . It's SO not good ! This line has been #PAWFECTed with detox bars (to pull the toxins from their skin) organic clays & made with soothing butters & oils specifically for them to gently remove toxins & dirt yet leaving their skin nourished and not stripped.
Take a peek and keep those babies #PAWFECT
We are on IG
@Jacks153
or you can visit our website
www.OrganicallyBeautifulByJC.com