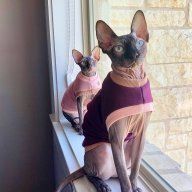 Senior Lairian
Senior Lairian
Joined

Mar 28, 2018
Messages

601
Points

198
Full Monty or Dapper Dan??
​
Do you dress up your sphynx, or prefer a fully nude, nude? Did your sphynx take to clothing easily, or was it a transition?
Please share your experiences dressing, or failing to dress, your naked babies! Brand recommendations wanted.

Pictures of your sphynx in their best threads are welcome and encouraged!!

Here is Kenzo's darling bow tie collar! We went with some Asian inspiration, after all, his name is Japanese! Crossing my fingers that he tolerates clothing, and lets me dress him up!!
He will borrow "big" brother Brodie's hand-me-downs until he is full grown. Then, we will buy him his own wardrobe, permitting he likes clothing.