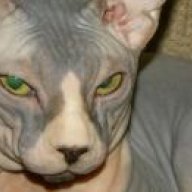 Joined

Feb 10, 2010
Messages

51
Points

19
my new valentines baby is here! here a quick picture i snapped in the vet clinic. i will take more after he is settled in.
to my suprise Gucci is behaving herself very well. but he still wants to hide and just peek around the corners, lol. im sure in a few days he will be out and about
well he came with the name Baldwin, which i think im going to keep, it fits him. although when i first met him and saw his wrinkly head i called him Prune head, lol!
he is truely the most loving cat ive met and ive only had him a few hours. i sit down and he comes up and wants to rub all over me. im in love already! he needs a bath, but i think i will wait a few days.
Happy Valentine's Day to ME!