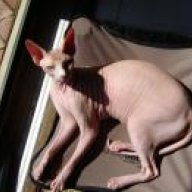 Joined

Oct 7, 2010
Messages

1,740
Points

0
Hello everyone. My name is Gizmo, but my mommy calls me Gizzy. I was up early and I want to share my good news, but mommy is still sleeping. So I decided to send a message to the wonderful people my mom talks about all the time.
Last week, mom came home one night and was very sad. She was cuddling me extra close (not that I minded) and then told me about a mommy she knows named Shauntay who loves her baby Douche just as much as she loves me. Is that possible? She told me that Douche had been very sick because he was born with a monster inside his heart that had just caused him to pass away at 5 years old!! That is more than 2 years younger than me!! And she also told me that many of her friends have had babies that this monster killed ... and many friends who have babies with this monster living inside them. No wonder she was so sad

So I decided that I was going to see what I could do to fight this monster. I got on mommy's computer the next day and found out about this wonderful monster slayer named Meurs. (I wonder if that sounds like purrs). She has already found this monster in other types of kitties, but not in the naked ones like me. If she finds the monster in nakeds, maybe we can get rid of this monster altogether one day. So I read her site. She needs blood from nakeds that have this monster living inside them and blood from nakeds 8 years or older, so she can compare the two and find the monster. But I am only 7.

So I found out some more information from friends of the "monster slayer" and I found out this morning that since my birthday is in February (5 days before mommy's), that Meurs needs MY help to slay the monster!!!

So next week I have to go get some of my blood taken out to send to Meurs to help slay the dragon. I am going to be brave because no one should be sad that their baby has a monster inside their heart - That is not fair.

So I am going to be brave for Douche and the other naked babies who this monster has already taken and I am going to be brave for all the naked babies that have this monster living inside them. I hope my blood helps and no more mommas or babies have to suffer.

Well... I think I hear mom... I have to tell her my good news and get some breakfast!

Bye!
Love, Gizzy
Last edited: